LABAmusic: WIth Alicia Svigals, Nadav Lev, Yoav Gal, NYC, 9 Jan 2015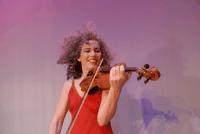 Alicia Svigals, Nadav Lev, Yoav Gal

Jan 9 at 8:00pm
14th Street Y
344 E 14th St,
New York, New York 10003
LABA, A Laboratory of Jewish Culture, presents award-winning opera and contemporary music.. Featuring LABA fellowship alumni Alicia Svigals, Klezmer Violinist, Yoav Gal, and Nadav Lev. From world music to indie opera, their diverse voices are united by the common thread of Jewish culture - a mesmerizing tapestry of some of the best original music made in downtown NYC.
Alicia Svigals: Violinist/vocalist/composer, world's foremost klezmer fiddler, a founder of the Grammy-winning Klezmatics will perform her Seduction in Eynaim: A Maternal Song Cycle: settings of poetry on the double-edged helix of inheritance across generations of women. With celebrated accordionist William Schimmel.
Yoav Gal, pioneering 'indie opera' creator, will present his Shekhinah song cycle, which constructs the history of the feminine personification of the Jewish people, שכינה, and her relationship with a hyper-masculine God.
Nadav Lev, multifaceted, innovative guitarist and winner of Andres Segovia Award, appears in his duo with Rémy David Yulzari, combining classical, Spanish and Jewish-Sephardic music traditions; and in New Strings Attached, music with classical and electric guitar, with world-renowned mezzo Rinat Shaham.
Facebook: www.facebook.com/events/321332101389578/