Martin Luther King, Jr Commemoration service, music, NYC, 16 Jan 2015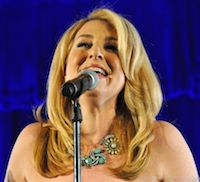 6 p.m., Friday, Jan. 16, 2015
Congregation Rodeph Sholom
7 West 83rd Street (between Columbus and Central Park West),
New York City, 10024
open to the public
Building on our community conversation on race and (in)justice, Erika Davis, a blogger who writes about the intersections of race, racism, religion and sexual orientation on her blog, Black, Gay and Jewish will speak about the Black Lives Matter movement and the Jewish community during Shabbat services during our celebration to honor the memory of Martin Luther King, Jr.
During the service, an original take on gospel music will emerge and resound. The joyous, eclectic program of music will spotlight composers such as Bob Dylan, Peter Paul and Mary and Dion and features Cantor Rebecca Garfein alongside top-notch vocalists and instrumentalists in a musical evening dedicated to King's vision for freedom and peace. Cantor Garfein will also debut a gospel-style L'cha Dodi that she commissioned from award-winning songwriter, Michael
Hunter Ochs (www.ochsongs.com.)
For more information about the evening, contact the Congregation Rodeph Sholom Cantors' Study at 646-454-3039.