Isle of Klezbos, San Antonio, TX, 12 Apr 2015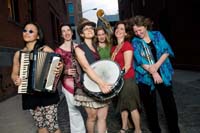 Isle of Klezbos
"Turks, Tailors & Uncle Moses"
Sun, Apr 12, 2015, 6:30pm
San Fernando Cathedral
Austin, TX
Presented by Musical Bridges Around the World. Our all-gal sextet special! FREE & open to the public, featuring repertoire from latest CD "Live From Brooklyn"