Klez-Edge, Egmond a/d Hoef, the Netherlands, 19 Jul 2015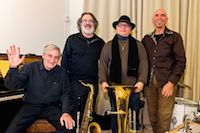 Klez-Edge
Sunday, 19 July, at 4pm
Museum Hoeveoverslot
Egmond a/d Hoef, Slotweg 42, the Netherlands
Free
This year Klezmokum celebrates 26 years of performances and 8 recordings!
By popular demand, "Klez-Evergreens" project has been extended with many
new pieces added for the next concert season: the first half of 2015.
Klezmokum and Klez-Edge (a quartet instrumental version of the band) have
a wealth of material from many years of existence which deserve greater
listening and performances for the public..
Klez-Edge is :
Alex Coke (Austin Texas / Amsterdam)--Saxophones and Flutes
Larry Fishkind (New York / Amsterdam)--Tuba
Roberto Haliffi (Tripoli Libya /Amsterdam)--Drums
Burton Greene (Chicago / Amsterdam)--Piano, Composition and
Arrangements