Strauss-Warschauer Duo, Branford, CT, 10 Sep, 2011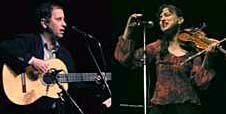 Branford Folk Music Society
Sept. 10, 2011, 8:30pm
Strauss/Warschauer Duo
Deb Strauss and Jeff Warschauer's performances are an integrated and intimate blend of songs, translations and instrumental music ­ grounded in tradition, yet thoroughly contemporary. They draw from Klezmer, Yiddish, Hasidic and liturgical music and culture, adding their own original compositions and song settings. As they sing and play in shifting combinations of violin, guitar, mandolin and accordion, they create a dynamic atmosphere with an exceptional range of feeling ­ from delicate and refined to exuberant and foot-stomping. Deborah Strauss will be leading dancing for all who wish to join in! Hank Savin, Teller of Jewish stories opens the show.
Admission: $15 for nonmembers, $12 for members, $5 for kids 12 and under
Branford Folk Coffeehouse
First Congregational Church of Branford
1009 Main Street, Branford, CT.
Special start time for this concert only - 8:30 pm
Hall is wheelchair accessible.
For more information call 203-488-7715 or 203-248-0291.
Email Branford Folk Coffeehouse
Web: folknotes.org/branfordfolk