Klezwoods and Underscore Orkestra, Cambridge, MA, 14 Apr, 2012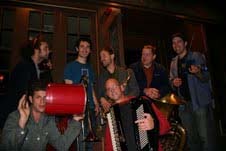 Klezwoods
April 14th @ The Lilypad
Klezwoods and The Underscore Orkestra Belly Dance Extravaganza!!!
10PM - The Underscore Orkestra
11:30PM - Klezwoods
On April 14th the Klezwoods will be joining forces with one of our favorite bands, The Underscore Orkestra. This rag-tag group of Oregonians play music of the balkan, klezmer and gypsy-jazz traditions. They also feature some of the best belly dancing talent around! Led by violinist, Jorge Katchmari, they take you through a musical and visual adventure that is fun, exciting, beautiful and very very entertaining!
Klezwoods will be headlining the night playing our unique blend of Klezmer, Arabic and Eastern European music with modern grooves and improvisation. Many of the tunes are coming straight from our new album currently being recorded. We will also be featuring belly dancing throughout our performance...so prepare yourselves for a whirlwind of music and dance!
Check out the evenings' featured belly dancers Danielle Smith and Hybrid!