Ezekiel's Wheels, Klezwoods, Cambridge, MA, 17 May, 2012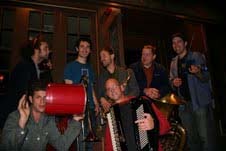 Ezekiel's Wheels with the Klezwoods
Thursday, May 17, 2012, 9:00pm
Atwood's Tavern
877 Cambridge Street
Cambridge, MA 02141
Hey Klezmer fans! Two of your favorite bands are coming together for one awesome show. Join Ezekiels Wheels and the Klezwoods for an evening of mayhem, music, and magic. The winner of this year's "Klezmer Idol" meets klezmer's best bar band at the bar where it all began. Mayhem, madness, or at least wonderful music most likely.
Ezekiel's Wheels hits the stage at 9:00 pm.
Klezwoods start at 10:15 pm.
Come early for good food, good beer, and a soundcheck.
$5 cover.