Klezwoods Belly Dance Ballet, Somerville, MA, 1 Feb 2014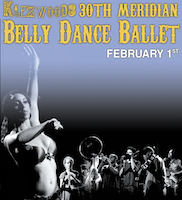 Klezwoods 30th Meridian
Belly Dance Ballet
February 1st, 2014, 8pm
The Armory
191 Highland Ave.
Somerville, MA
$20-online / $25-door
More info: www.bellydanceballet.com
Klezwoods is teaming up with belly dancer Bevin Victoria for an event called "The 30th Meridian Belly Dance Ballet". Victoria (a.k.a. Hybrid) has put together a belly dance troupe that will be performing alongside the band doing a fully choreographed "music and dance journey" up the 30th Meridian.
Victoria is an internationally accomplished dancer (2012 International Tribal Star Award, 2013 Belly Dancer of the Year) and has been dancing with Klezwoods as a guest star for years, doing dance routines for festivals and events, including a popular annual performance at The Lilypad in Cambridge, MA called, "Klezwoods Belly Dance Extravaganza!"

Their most recent album, "The 30th Meridian: From Cairo To St. Petersburg With Love," was released in the Fall of 2012 and represents a musical journey up the 30th Meridian (through Egypt, Turkey, Israel, Eastern Europe and Russia). This region of the world is influential on their music and many of the songs they play are directly from these countries.

Based off this musical journey, Victoria and Sam Dechenne (trumpet player for Klezwoods) created a story with different characters, scenes and props to go along with each song. Victoria assembled a stunning lineup of dancers from the Boston area to bring the idea to life.

On February 1st, Klezwoods will be playing down their entire album with the dance troupe on center stage performing this journey. Scenes include; a raucous Israeli wedding, a traveler's perilous adventure through an Egyptian marketplace, two Balkan mountain woodsmen, a lonely seamstress looking for love....all coming together for The 30th Meridian Belly Dance Ballet!