"J. Edgar Klezmer", Mamaroneck, NY, 5 Dec 2015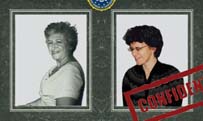 "J. EDGAR KLEZMER: Songs from My Grandmother's FBI Files"
Saturday, December 5, 8:00pm
Emelin Theatre
153 Library Ln,
Mamaroneck, New York 10543
Tickets: www.emelin.org/event/theatre/j-edgar-klezmer
Musical documentary theater! Explore the declassified archives of Dr. Adele Sicular, grandma to Isle of Klezbos drummer/bandleader & composer/lyricist Eve Sicular. Featuring musical genres from klezmer to Kodaly, baroque to boogie-woogie and beyond to investigate Cold War surveillance on the Upper West Side, derelict theories of homosexuality, Hazel Scott's cancelled TV show, and family gossip.
Missy Fogarty, lead vocals & investigator 1
Yelena Shmulenson, vocals & investigator 2
Debra Kreisberg, clarinet & saxophone
Reut Regev, trombone
Shoko Nagai, accordion & piano
Eve Sicular, drums |bandleader & grandchild/lyricist/composer