A new Flory Jagoda album: this review and others from Judith Cohen
Inspired by Flory Jagoda's wonderful new album, Sephardic music expert and performer Judith Cohen has sent us a slew of reviews about recent significant recordings: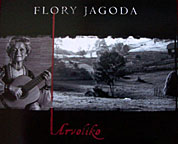 This is the one that started the recent round of writing: Flory Jagoda / Arvoliko. Cohen says that it is very, very good. Jagoda, of course, is a national treasure (and has the medal to prove it ;-)). Here she shows that she is still engaged with writing new songs about current life and politics. No "Ocho kandelikos" here. That's already been done.
Here's another recent Jagoda release, this one with under-rated Argentinian singer, Ramón Tasat: Flory Jagoda and Ramón Tasat / Kantikas de amor i vida: Sephardic Duets. Another Tasat album, "Teshuva," by Tasat with César Lerner and Marcelo Moguilevsky was reviewed in 2004 by Sam Weiss.
But wait, there's more! Izzet Bana & Estreyikas d'Estambol / Un Kavretiko, 2005, brings us a review of a delightful children's album.
Less successfully, the excellent "Constantinople" ensemble tackled Sephardic music in 2001 with something that is beautiful as music, but perhaps not particularly connected to "Sephardic": Constantinople / Memoria Sefardí / Musique d'Espagne juive et chrétienne.