Yiddish Summer Weimar almost here - "The Other Europeans," Jul 10 - Aug 15, 2008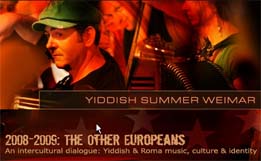 Date: Mon, 19 May 2008
Subject: Newsletter Yiddish Summer Weimar: The Other Europeans July 10th - August 15th 2008
Dear Friends of Yiddish Summer Weimar,
I just returned today from Chisinau (Kishinev), Moldova, where I spent an incredible five days with Marin Bunea (violinist), Diana Bunea (musicologist), Adam Stinga (trumpeter), Kalman Balogh (cimbalist), Fima Chorny (singer/songwriter) and Susana Ghergus (pianist). We spent from morning to night discussing, playing, listening, and exploring the topic of klezmer (Jewish) and lautari (Roma) musicians in Moldavia before the war and until today....
Yiddish Summer Weimar
Veranstalter other music e.V.
c/o Kulturbüro LaRete | Goetheplatz 3 | 99423 Weimar
Fon +49 (0)3643 50 66 77 | Fax +49 (0)3643 49 86 04
Mehr Informationen zum Festival finden Sie unter
www.yiddish-summer-weimar.de
... It was an incredible meeting of hearts, souls, minds, and music. Marin and Adam are extraordinary musicians, and they introduced me to a whole scene of musicians in Chisinau playing many of our familiar melodies at the speed of light, or possibly faster. It astonished all of us to discover that these Moldavian musicians had never heard of the klezmer revival, and they had never heard the old klezmer recordings from the 1910s and 1920s that are so important to our understanding of Yiddish music. When I played them Naftule Brandwein, Dave Tarras, Abe Schwartz, Belf's Orchestra, and so on, it was like a generation from 90 years walked into the room for the first time for them. In the days that followed, our conversations and exchanges of ideas, melodies, styles, memories just grew deeper and deeper. So what I want to say to all of you is this: I think that Yiddish Summer in 2008 is going to be just incredible, a great challenge to our ears, fingers, hearts, and understanding in many ways. The technical level will be high, definitely, and the more experience one has with klezmer music, the better. I wish I could go to every music school, conservatory, and university in Europe and tell the students what they'll experience if they come to Weimar this summer. Since I can't do that, I want to ask all of you to think of your friends, acquaintances, and contacts to music schools, cultural centres, universities, etc. If you can help spread the word about Yiddish Summer, please send Stephanie an email and tell her and she'll send you some flyers to distribute.
I also want to encourage you to come to the symposium from July 12-14, just before the beginning of the Instrumental Workshop. It will be a very rich discussion of topics ranging from comparing Roma and Yiddish culture and history to clichés and stereotypes, legal and human rights, and of course research in Yiddish and Roma music. Speakers are coming from Poland, Moldova, Germany, Italy, Ukraine, Switzerland and the USA, and it's going to be a very international group indeed. At night we'll have a mini-film festival outdoors, showing "Gadjo Dilo", "Auf der Kippe", the music films of Yale Strom, and Adela Peeva's great film "Whose Is This Song?" For more information, please see our website.
Thanks for your attention, and hoping to see you this summer!
Best wishes,
Alan
Yiddish Summer Weimar
Veranstalter other music e.V.
c/o Kulturbüro LaRete | Goetheplatz 3 | 99423 Weimar
Fon +49 (0)3643 50 66 77 | Fax +49 (0)3643 49 86 04
Mehr Informationen zum Festival finden Sie unter
www.yiddish-summer-weimar.de