Quick report from Ashkenaz
I have good intentions to write more about the festival once I get back to the States (and dread that drive). Those intentions may end up with my notes from Israel last spring.
So, here are some quick high points:
First, kudos to Eric Stein for bringing in a diversity of traditional Jewish cultures in flux—not being stuck on just Yiddish and klezmer. Pharaoh's Daughter last night was one proof of how much interesting music is coming from outside our Eastern European cultural world. Bandleader Schachter was so grounded and comfortable, and the band, supplemented by sax maven Alex Kontorovich, was so tight, even in the longer improvisations. The material focused largely on traditional Ladino, Yiddish (including a rousing "Shnirele Pirele"), and liturgical Hebrew—I didn't notice any of the new Heschel material (Schaechter has set several love poems by the late AJ Heschel to music.) It was easily the best concert in the large stage all day—although Streiml were in excellent form, themselves, and "Sisters of Sheynville" were sheer delight.
Saturday night, Konsonans Retro blew the stage away (okay, that was an easy statement), which isn't to say that the Klez Dispensers were less than superb, either. Many indoor concerts were over-subscribed, so I'll be cutting out of the parade early today to ensure that I see the new Marilyn Lerner-Adrienne Cooper piece.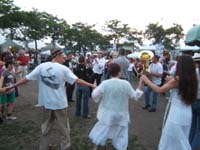 The other thing to note is how much Eastern European folk dancing is happening. There are at least three hours a day, converting the main lawn of the event area into a place where traditional klezmer, accompanied by primo dance instructors including Toronto's own Helen Winkler, keeps people moving in circles (sometimes twining lines, or couples) throughout the day. This should become sine qua non for all Jewish music festivals—it's important for learning/remembering basic dance steps, and it matters that people see other people having fun dancing to traditional Eastern European simkhe music. In that sense, this festival is still very much "Ashkenaz."