Isle of Klezbos @ KlezBiGay Pride Show, NYC, 12 Jun 2013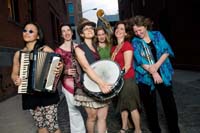 Isle of Klezbos
Wednesday, June 12
KlezBiGay Pride Show, 15th annual!
7PM til 9PM, free: Rain or shine.
Outdoor location, El Sol Brillante Community Garden (522 East 12th St, between Ave's A & B)
Or in case of rain, JCC Manhattan (334 Amsterdam at W 76th St, NYC)
Isle of Klezbos sextet celebrates our 15th yearly June festivity in honor of LGBTQ Pride, open to all!
This year's theme is "Music for a Sustainable City" with Tony-nominated actress/playwright Lisa Kron as our MC, plus special guest Margarett Jolly: renewables maven for Con Edison. Sponsored by Lower Manhattan Cultural Center; Fund for Creative Communities; Manhattan Community Arts Fund; fiscal sponsor Jews for Racial & Economic Justice. Thanks for Solar One for solar-generated sound system.
klezbos.com/KlezBiGayPride15