Maxwell Street Klezmer Band, 30th Anniversary, Chicago, IL, 3 Nov 2013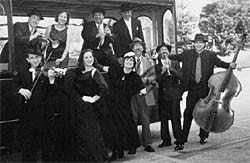 Maxwell Street Klezmer Band celebrates its 30th anniversary.
Sunday, November 3, 2013, 4:00 PM
Old Town School of Folk Music
4544 N. Lincoln Ave.
Chicago, IL
Band members from all five of our recordings will be flying in from across the country to take part in this reunion, including Rabbi Joe Black (Denver), who recorded "Eight Nights of Joy" with the band in 2008. There are only 350 seats available at this point.
It's been a really interesting 30 years. Hopefully, there's more in store.