Bands and Performing Groups: Klezmer, Jewish, and Related or Derivative musics
Wait until the entire page loads before you click on a letter or scroll down--if the letter you pick hasn't loaded, the link won't work and then you'll have to reload the page and wait.
A | B | C | D | E | F | G | H | I | J | K | L | M | N | O | P | Q | R | S | T | U | V | W | X | Y | Z
Klezmer Bands, "R"
The Rabbinical School Dropouts, formerly known as the Amazing Colossal Band, performs throughout Southern California. Established in 1997 by Michael Friedmann to provide entertainment for his younger brother's Bar Mitzvah, the band travels across Southern California performing original and standard Klezmer. The band's first album, "Introducing," was released in late 1999. The band includes clarinet, saxophone, trombone, cello, guitar, piano, bass, drums, and percussion. For further information on the group, please visit www.rsdo.com. Tel: (619) 742-5539. (Michael Friedmann).
RADA synergica, based in Leipzig, Saxony, Germany, consists of three charming female musicians playing Klezmer and East European Folk. The music is played with power and passion. The repertoire covers heart-renting melodies to thrilling east european rhythm, satirical and ironic Jiddish songs for laughter and rousing. It is not only the composition at the instruments that makes it special, it´s also that these instruments are played by women. The instruments are: Piano/accordeon, Clarinet and Cello/Guitar and all three ladies are singing. The music RADA synergica plays gives the audience the feeling of pure live to the hearts, ears and souls. Write: c/o Birgit Kowalski-Nentwich, Richard-Lehmann-Str.45, 04275 Leipzig, Germany. Tel: ++ 49 (0)341-8617304. Web: www.rada-synergica.de. (Claudia Herold)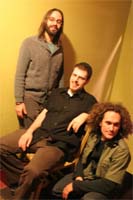 Rashanim is a trio of guitar, bass and drums/percussion combining the power of rock with the spontaneity of improvisation, deep Middle Eastern grooves, and mystical Jewish melodies. The 'Jewish power trio' is led by Jon Madof on guitar and includes Shanir Ezra Blumenkranz (Yo-Yo Ma, Anthony Braxton) on bass and Mathias Künzli (Lauryn Hill) on drums and percussion. The band gets its name from the noisemakers used during the raucous Jewish holiday of Purim. Among its recordings on John Zorn's Tzadik Records are Rashanim (2003) and Masada Rock, Vol. 5 (2005). Tel: (718) 788-3147. Web: www.jonmadof.com/projects.htm#Rashanim. (Jon Madof).
New Hampshire's oldest and most popular klezmer band, the Raymond Street Klezmer Band plays a lively style of klezmer and Israeli folk music at festive family occasions which never fails to draw dancers from the audience. The band has also represented the state at the Smithsonian Folklife Festival on the mall in Washington, DC, performs for the New Hampshire Arts Council at schools, and is a frequent draw at local civic concerts. (Michael Harris)
The Rebbe's Orkestra is an exciting group of musicians who have been performing and celebrating simchas (happy occasions) in New Mexico and throughout the Southwest U.S. since 1996. The band plays an international and eclectic variety of Jewish music (and some not-so-Jewish music): Klezmer (Jewish instrumental music of Eastern Europe), Middle-Eastern and Israeli, Yiddish theater and folk songs, Sephardic (Judeo-Spanish), Spanish New Mexican, Mediterranean, Balkan, Roma (Gypsy), even Jewish Jazz and Chamber-style music (known as table music). The Rebbe's Orkestra plays for concerts, wedding ceremonies and receptions, bar/bat mitzvah parties, baby namings, educational workshops and concerts, dance parties, festivals, specialty and theme concerts, you name it! The band has even created, produced and performed two musical theater pieces. Tel: (505) 243-6276). Web: arnoproductionsnm.com. (Beth Cohen).
Recklez -- the Harvard Klezmer Band joins the college klezmer band scene with a mostly traditional mix of Klezmer tunes and Yiddish vocals. This 7+ piece band performs in the Boston area and has been known to make Harvard students kick up their heels in dance. Web: hcs.harvard.edu/recklez. (David Rice)
The Red Hot Chachkas are a hot Klezmer band based in the Bay Area. All audiences love us and dance to our music. (We also teach Klezmer dancing). We have two albums out, "Family Album" (2002) and "Spice it up!" (2007). Band members include Julie Egger: violin, Tony Phillips: mandolin, Michael Arrow: percussion, Barbara Speed: clarinet, Rob Reich: accordion and Breck Diebel: bass. P.O. 36 Lagunitas, CA 94938 415-488-9125. Web: www.redhotchachkas.com. (Julie Egger)
The Red Sea Pedestrians, Kalamazoo, MI, USA, is a five-piece, klezmer-influenced band from Kalamazoo, Michigan. Original, eclectic material and a few choice covers. All members are songwriters and multi-instrumentalists. Founded in 2005. Tel: (269) 352-8112. Web: www.myspace.com/redseapedestrians. (Ian Gorman)
Red Sea Pedestrians Klezmer Band has performed since 1992 in Perth, Western Australia. Tel: 0414 510 646. Facebook: www.facebook.com/Red-Sea-Pedestrians-Klezmer-Band-1603514799905434/
The Reptile Palace Orchestra, Madison, WI, has been voted Madison's Favorite World Music Band by readers of the Isthmus for the past 7 years. They have been making music for 14 years, and their setlist includes a Frailoch as well as many songs from Eastern Europe (Balkans, Egypt) and the Romany areas. They share members (vocalist, clarinet, sax, trumpet, french horn & accordion) with Yid Vicious, another Madison Klezmer band. They are available for private parties, festival events and club concerts. Their "world music that rocks" or "Balkan Lounge Funk" is available at www.cdbaby.com/all/bifftar and on iTunes Tel: (608) 244-7944. Web: www.myspace.com/reptilepalaceorchestra. (Biff Blumfumgagnge)
Ricketty Bridge, based in Victoria, Australia, is a 6 piece accoustic band. We play jewish folk and yiddish theater favourites, sing in Yiddish, hebrew, ladino, english french spanish. Contact: Mickey Lisieux, 264 Newtons Lane, Fern Hill/Trentham, Victoria, Australia 3458. Tel: 61 03 5424 1401. Web: myspace/rickettybridge. (Mickey Lisieux)
The River City Klezmer Band, in Louisville, Kentucky, meets every second Tuesday at Four Courts Senior Center to rehearse, and plays concerts around Louisville whenever we get asked. We play largely for our own enjoyment Our twelve members (give or take) currently include a Yiddish vocalist, trumpet, 2 clarinets, flute, violin, saxophone, harmonica, drums, string bass and piano. Tel: Al Goldin, 502-895-5996. (Al Goldin)
Rojinkes mit Mandeln is a Swiss duet playing Yiddish songs and Klezmer Music, featuring Marie-Claire Stambac (accordion, vocals, dance); and Michel Borzykowski (saxophones, vocals, guitar and prayer...) The band is born 1997 at the "Feast of the Music" in Geneva, Switzerland, and performs regularly at concerts and 'simkhes' (celebrations). Tel: +41.22.755.41.23 / Fax: +41.22.776.14.94. Web: www.borzy.info. (Michel Borzykowski)
The
Rony Micro Band
formed in 1994. Each member came from a diverse musical background, but all had the same interest in traditional European Folk music, with a strong klezmer prevalence derived mainly by the bass player background. After more than four hundred concerts, they have finally cut a CD! Some of their performance highlights include participating in a "RockContest" (and ranking 3rd among four hundred), playing on a boat in the Canal Grande in Venice during "Carnivale", and performing as the opening act to the famous Klezmatics. (Luca Sgheri)
Rozsa, based in Rosendale, NY, plays klezmer, gypsy, hungarian music. We are available for events, parties and weddings. Tel: 646-229-7889. Web: rozsaband.com. (Katalin Pazmandi)
The RS Klezmer Band, based in Pembroke Pines, FL, consists of two musicians: Richard Shapiro, clarinetist and keyboards; Randy Stevens, trumpet and drums. We play live and with programmed music. Tel: 954-684-9565. (Richard Shapiro)
Ruach: Nabil and Samia , Christian Arabs from Nazereth and Ofer, a Jew from Jerusalem met in December 2002 when Germans, following a vision to bring a Jewish and an Arab musician together on a stage arranged a series of concerts and a recording (Peace from Jerusalem). 2 years and 6 tours later they are a living example that music transcends borders and co-operation is not only possible but sound great in concert and on a CD. As Musicians for Peace the three see performance and prayer and play all over Israel in Germany, Holland and Belgium. On the CD - Ruach (wind,spirit)- www.cdbaby.com/ofer4 they are joined by Celtic harp, Clarinet and 3 different percussionists in a mix of styles fusing traditional Arab music with Jazz, Flamenco. Web: www.guns2guitars.org. (Ofer Golany)
The acclaimed eight-piece Joel Rubin Jewish Music Ensemble (Charlottesville, VA) was formed in 1994 and is dedicated to the performance of Eastern European Jewish instrumental klezmer and hasidic repertoire. The band features Rubin on clarinet, Hungarian cimbalom virtuoso Kálman Bálogh, Italian accordion wizard Claudio Jacomucci and Russian master fiddler David Chernyavsky. Other members have included: Pete Rushefsky, Steve Greenman, László Major, Ferenc Kovács, Csaba Novák, Sándor Budai, Hank Roberts, and Ryan Zawel. The band's most recent CDs are "The Nign of Reb Mendel" (Traditional Crossroads, forthcoming in September, 2010), which also features the singing of Lubavitcher Rabbi Eli Silberstein, and "Midnight Prayer" (Traditional Crossroads, 2007). Recent performances included the Concertgebouw in Amsterdam and the International Klezmer Festival in Fürth, Germany. Contact: Tel: (434) 882-3161. Web: www.joelrubinklezmer.com. Myspace: www.myspacemusic.com/joelrubinjewishmusicensemble.
Rubinchik's Yiddish Ensemble is an ensemble of Austin's finest acoustic musicians gleefully exploring the residue of the Jewish and Romany musical diasporas. We call it Old-World Beat. Featuring Khasn Neil Blumofe on vocals. [The band's first CD, "Flipnotics Freilach" is killer Texas klez! ari]. In 2001 the ensemble released Hill Country Hannukah. Not available for weddings, bar-mitzvah's OR brisses. Latest CD is "Hill Country Hannukah" (2001). Web : www.markrubin.com/rubinchik. (Mark Rubin)
Rue du Mazel is located in Gap (!!), in the South Alps (France). The "rue du Mazel" is a little street in town, where we used to play in summer when our friend Philippe had a tiny restaurant. We are 5 or 6, depending on various factors. We play only klezmer music and yiddish songs. I propose the repertoire, the others try to agree… We play in markets, birthdays, weddings, private events… We would love (especially me) play for dancers. Contact: A.Dorvaux. "Rue du Mazel". 23 rue des Jardins. 05 000 Gap, France. Web: www.myspace.com/ruedumazel. (Joanne Lehmann)